I am so excited that another blogger found my little blog and liked it enough to give me a Liebster Award for up and coming blogs with less than 200 followers! (I'd say 3 is definitely less, tee hee!)
Thank you Betsey Dixon over at
http://trendytechtipsbd.blogspot.com/
Be sure to check out her blog, I think it looks like another fabulous resource!
Here are the rules for the Liebster Awards:
1. Copy and Paste the award on your blog.
2. Thank the giver(s) and link back to them.
3. Reveal your Top 5 picks and let them know by leaving a comment on their blog.
Now, I get to pass the award on to 5 deserving "baby" blogs...it is getting late now, so I don't have 5 yet...but so far...
1. Marcie at
2nd Grade Learning Safari
2. Heather at Swinging Through Second Grade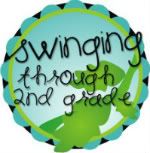 3. Mrs. Lirette's Learning Detectives